For the general public, stop on by for our weekly Tuesday Open Nights from 6:30 – 9PM. Join in on the fun with Triple Cities Makerspace.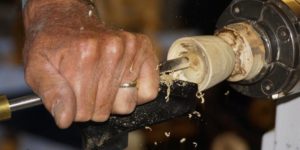 February 17 2018 10am - 12pm: Introduction to Wood Turning on a Wood Lathe
Come join us at the Triple Cites Makerspace for a hands-on class on woodturning. In this class we will cover the basic skills needed to operate a wood lathe using hand tools. Whether you want to make custom wood bowls, or a new leg for your favorite broken chair, this is the class to get you started.
Tickets are free for TCMS members and $25 for the general public.
Register and get tickets here.